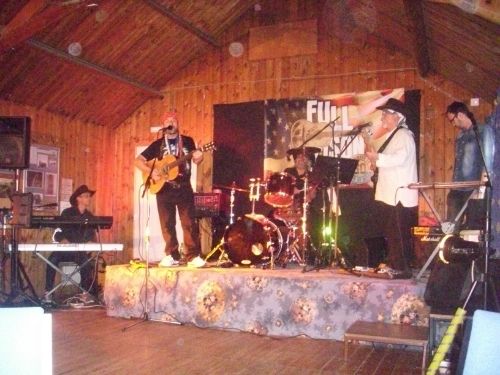 Last night I went out to see a Willie Nelson tribute act. They're called Full Nelson: 60 years of Willie. The gig was in the village hall in the small North Yorkshire village of Weaverthorpe. Kind of fitting as the real Willie Nelson played tiny venues in out-of-the-way places like that when he was just starting out. I was impressed by their attention to detail. They made an effort to look the part, even down to relic'ing a guitar to look like Trigger.
Of course, Willie's voice is unique, so although singer Gary Luntly made a valiant stab at Willie's vocal stylings it wasn't quite on the money. They do get bonus points for covering songs from throughout Willie's long career from his early days right up to several tracks from his latest album with Merle Haggard. The drummer is Ian James, formerly of Diesel Cowboys and standing in for Mickey Raphael was Al 'low-down' Lawrence of the Railroad Hobos.
The band will be at Cloughton village hall (near Scarborough) partnering a Johnny Cash tribute on 21 August and at the Whitby CM festival on 5 September.